quietly despairing with Seiko's SARB033
2017 (updated : 2017.02.08)
a review
Quietly despairing your lot in life? Interested in high-end Japanese watches but you can't afford one? Seiko's got you covered with the SARB line. Corners may have been cut, but you can still pretend with the SARB033.
[ Note that this review was modified on 2021.06.18, regarding the bracelet. ]
Seiko's SARB033 is an "automatic" sport wrist-watch that hits a nice note of legibility, form, weight, and accuracy. I'm by no means a watch expertnote 1, but I think I've got this one figured out.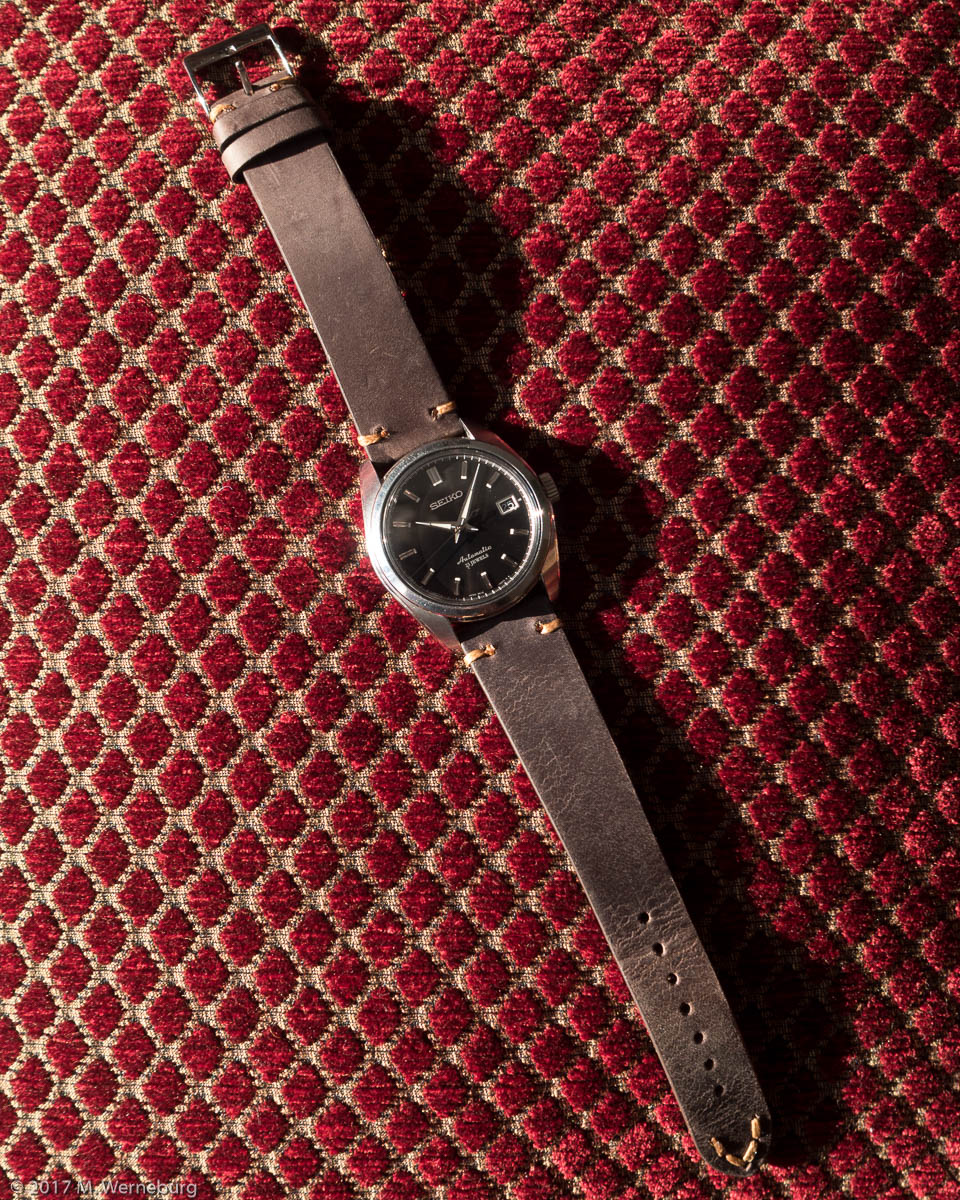 Yummy
strengths
The 6R15 movement in this watch is automatic, meaning it is spring-driven and will self-wind to a degree due to a weighted rotor that shifts when you move. The movement is capable of being accurate to within a few seconds a day.
I've finally got mine tuned to the point where I don't have to adjust the time by more than a minute, more than once every week or two, but that took three visits to a watchmaker. I do expect this movement to last for many years, and to retain its accuracy with the odd tune-up.note 2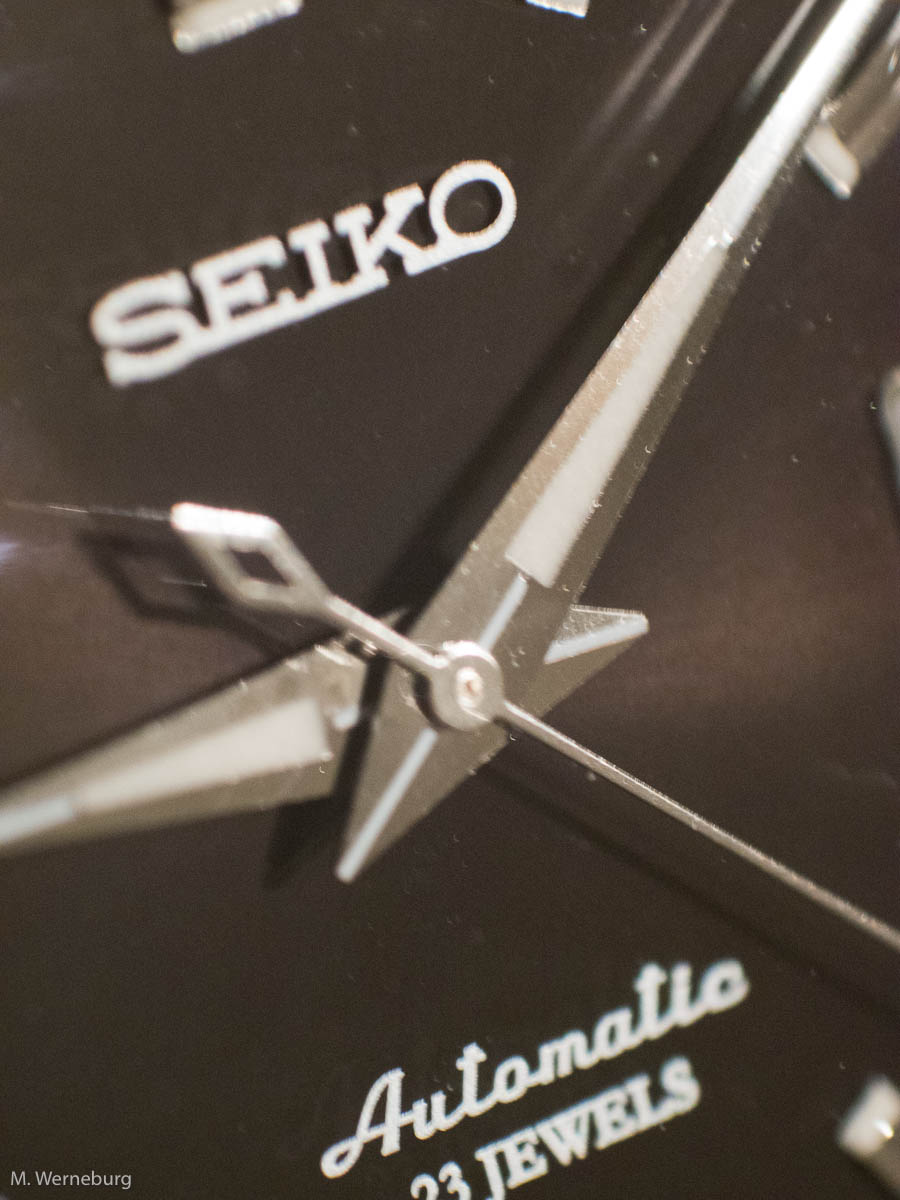 A blurry attempt at the dial of SARB033. Shot with
reverse-mounted lens for very shallow depth of field.
The materials and construction are what you'd expect from a Seiko watch in the hundreds of dollars. After three years of regular wear, the sapphire crystal has yet to have a single blemish. The steel case, while slightly burnished in a couple of places, otherwise looks great and needs only some occasional gentle cleaning.
surprises
I fell in love with this watch online, as it wasn't available in stores in North America at the time (though it is today!) My wife picked up my copy while on a trip to her native Japan for my 43rd birthday — a great way of saving some money while retaining Seiko's global warranty. The drawbacks from this however were:
I hadn't realized how small the date window is.
And the bracelet isn't as substantial or attractive "in the steel".
And the sapphire lacks an anti-reflective glare.
The former became a problem for me about two years into my ownership of the watch. The lenses in my eyes began to ossify and I was finding it hard to see the window date. It's now impossible without reading glasses. That's not the case for similar watches I've looked at, and it's not a problem with my inexpensive diver. The window date on the SARB033 is small, crowded with an unnecessary steel trim, and recessed deep into the dial.
As for the bracelet, I've encountered two issues. First, I sometimes can't find a comfortable fit. The clasp on the bracelet is quite short, and only allows only one small adjustment. In warmer weather, when my wrist naturally expands and contracts throughout the day, this is limiting and I've found I sometimes have to take the watch off. Aesthetically, the bracelet doesn't quite match the case's tight lines. There is quite a lot of play between the links, and there's a substantial gap between the case and the first link. There's another gap at the end of that short clasp as well - almost certainly a function of that shortness.
All of that said, the bracelet does have a couple of things going for it that I only learned after buying a Strapcode bracelet. First, that play in the Seiko bracelet and that space between the links result in a comfortable strap - if you can size it. Secondly, the Seiko bracelet has nicely rounded under surfaces and a balance between the links that gives it a nice continuity. The Strapcode bracelet is now back in its bag because it was the opposite - heavy, hard-edged, and lacking in enough flexibility to be comfortable. I found it physically uncomfortable. I also had trouble with the spring bars, believe it or not; they lost their grip on the case some three times, possibly due to that lack of flexibility. Trying the Strapcode - an $80 mistake - has taught me a new appreciation for the Seiko bracelet. I intend to find a replacement clasp on AliExpress and see how it goes.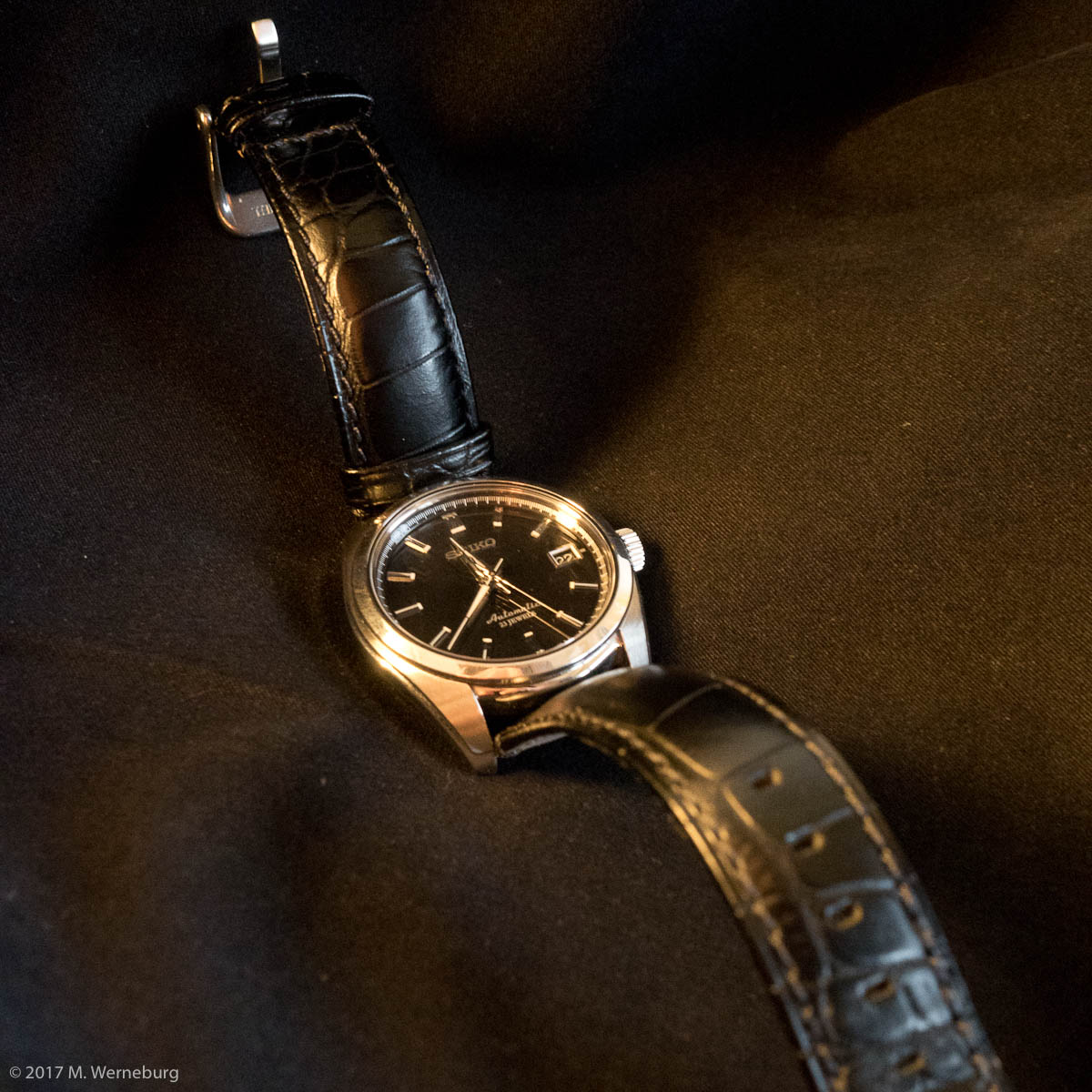 Seiko SARB033 on a faux crocodile black band
When I started experimenting with straps, I first used a black crocodile model. Then I switched to plainer straps that I think better offset the watch's lines and style - as noted in the first photo on this page. My current strap (as of late 2018) is the following: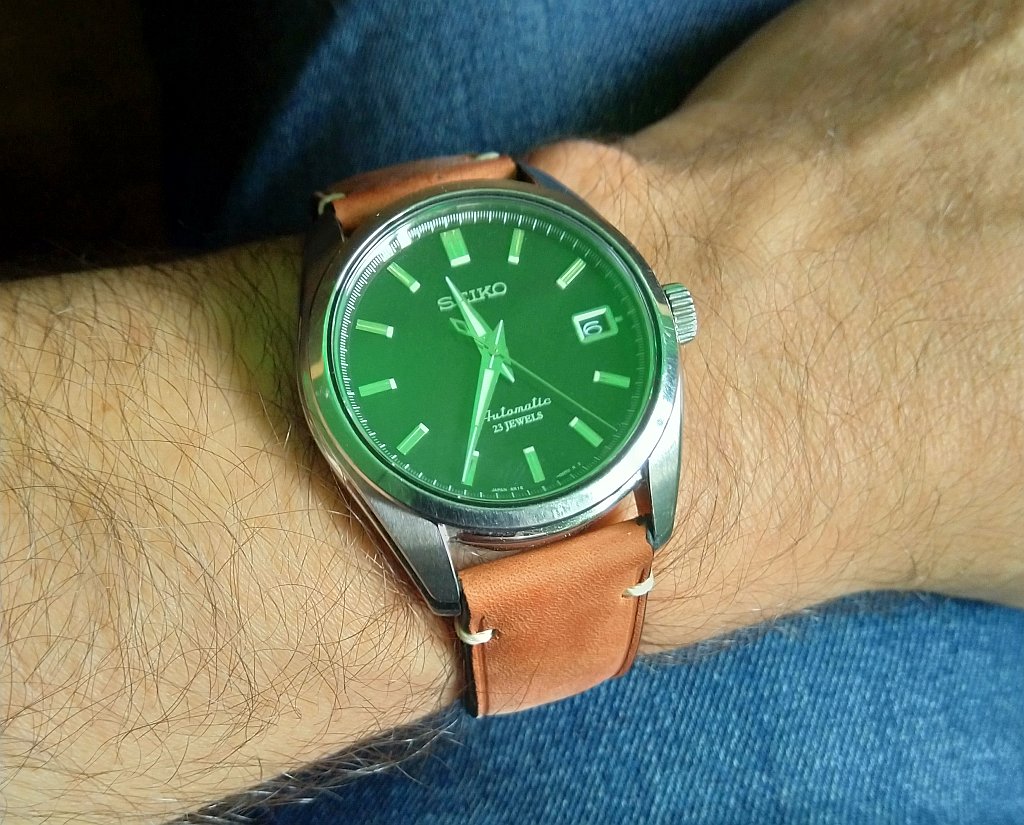 SARB033 on an inexpensive tan strap
As the photo above ably demonstrates, there's a good deal of glare on this watch. In possibly another cost-cutting effort, the sapphire seems to lack an anti-reflective treatment. Even my $50 "beater" watch - a Casio MDV-106 - has a crystal with a much more limpid look.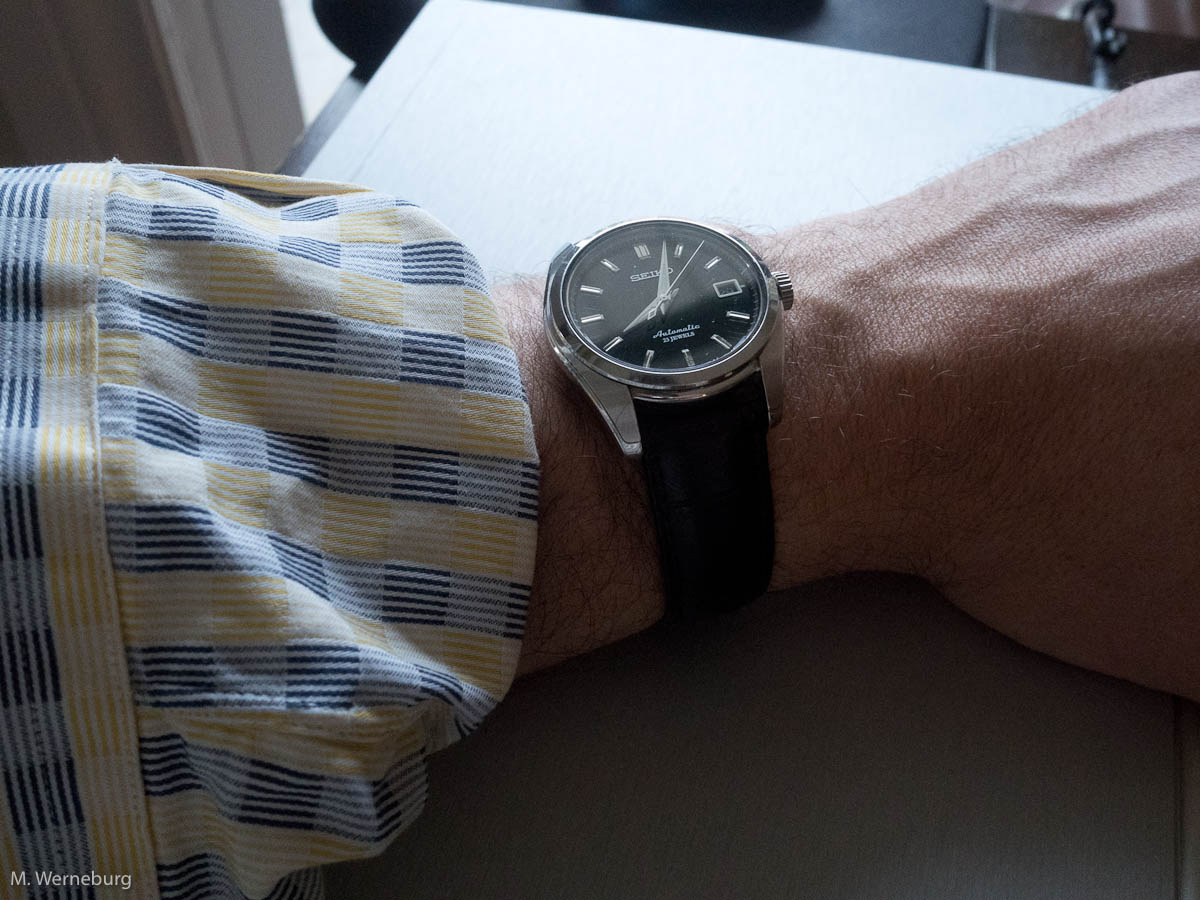 The obligatory on-wrist shot. My wrist is 7⅞" or 200mm around.
But, you get what you pay for, and the band and anti-glare "issues" I'm citing are likely purposeful to distinguish the SARB033 from watches like SDGM003 or SARX035, which cost twice as much (or more). At $600-$900, I wouldn't have bought either, so I'll live with the glare.
taste
Size:I find that today's 40mm++ watches remind me of Flavor Flav: self-consciously absurd. Men's dress watches were never HUGE like they are today, and I'm a fan of the old ways. I've got nearly 20cm wrists — about 7 7/8". On me, the 38mm SARB case suits the width of my wrists and lets me wear the watch under the cuffs of my office shirts. That 11mm height becomes a problem with some of my dandy French cuffs unfortunately, but as I've been trying to convince my wife, that's why we have slim dress watches.
Design: This watch has a strong Japanese vibe, which is why I don't think it was released internationally. It blends a conservative middle-management utilitarianism and "price point" while striking the quiet sophistication that 95% of Japanese adults seem to understand is their duty. But if you peruse the Seiko line-up you'll note very similar designs way up in the stratosphere, among the Grand Seikos. note 3 I therefor suspect that the '33 is a designed for the Japanese domestic market to fill an aspirant's niche — e.g. if you're that Japanese middle-management type you're likely well aware of the Grand Seikos and this is your "me too".
That's pure speculation, but I like the looks of the thing regardless. Rather than to go into great detail, some photos should suffice: it's a three hand watch with a date window and a black dial, "Dauphin" hands, a beveled chapter ring, a sapphire crystal, and a stainless steel case and bracelet. Thanks to that clever 6R15 movement, the case stands at a middling height on the wrist at 11mm. The case avoids falling into any particular time period with a one-tone stainless steel construction, a minimal bezel, sleek raised matte portions that swerve around the bezel and lie out the length of the lugs. On the dial, everything matches the stainless case in color and the hour markers have linear incisions that match the incisions on the case.
Back to Japan: I'm convinced that this watch and its various siblings are a steady sellers in their home country. From my five years in middle management in that country, I'm sure that this watch meets the cost-conscious and understated taste that sells to the Japanese salaryman (or rather, the wives that hold the purse-strings). This is a land of consensus, and not one of ostentatious displays of status. A domestic model such as this, with its office-friendly looks and reasonable price, is exactly what would appeal.
Of course, there's an attitude of quiet desperation about the middle rungs of the corporate world, and I'm still sadly toodling along in the thick of it at 46. Hell, I probably will be for life. And so, my SARB033 with its smart refinement and its cut corners will be there with me, timeless and enduring, telling me the time and pleasing me with its subtle good looks.
Notes
1. You should see what people have to say about my review of a typical "branded" no-frills quartz cheapie. back
2. There are tricks to keeping your watch healthy. back
3. Though those tend to have white dials like the SARB035 sister to the SARB033. back
Related reviews
2021.05.23
I was shocked to receive this fine watch from Casio's "metal twisted G-shock" line as a 50th birthday present.
2017.03.15
I bought a beater Casio that turned out to be a fine watch – with a few warts.
2021.11.28
Can a beater both be perfect and a disaster at once? Alba argues yes.