The No-Cry Sleep Solution
A book review.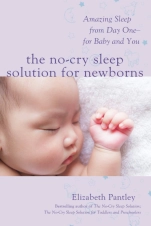 Gentle Ways to Help Your Baby Sleep Through the Night
by Elizabeth Pantley
published: 2002.04.18
ISBN: 1260462129
genre: Film
reviewed:2008.11.05
👍🏼 recommended
Once upon a time there was a baby boy whose sleep habits drove his father around the bend. He bought this book to work through how to get off of the cycle of constant disruption caused by appeasing the baby. This books doesn't exactly teach "tough love" but rather provides some discipline for a family that leads to mutual rest.
That father's wife, however, overruled any such discipline, and the family struggled until the boy started sleeping after a year or so.
And then came the baby girl. Who, through indulgence by her mother, was allowed to wake the family constantly through the night for over six years. at the end of that ordeal, the parents were needlessly estranged and more or less going through the motions.
I recommend that disciplined approach.