The Essential Drucker
A book review.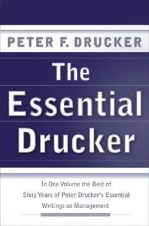 by Peter F. Drucker
published: 2001
ISBN: 0066210872
genre: Business (Management)
reviewed:2009.09.29
👍🏼👍🏼 a favorite!
Many management books bogs down in stilted concepts and philosophies. This book is the opposite. My dog-eared copy is scattered with highlighted passages and notes to myself to use certain parts for various initiatives. It is the most no-nonsense how-to I can recall on the subject. It has sections on picking people, on social impacts, on instilling effectiveness, on innovation, and what the author calls the "entrepreneurial society".
Drucker goes on at some length to explain the job of management in the age of the knowledge worker. I'll quote one bit from one of those highlighted & dog-eared pages:
One does not "manage" people. The task is to lead people. And the goal is to make productive the specific strengths and knowledge of each individual."
And what motivates?
They need, above all, challenge. They need to know the organization's mission and to believe in it. They need continual training. They need to see results.
The author writes with consistent clarity and clear purpose. He's conveying ideas and many of them, with evidence and sounds reasoning. It's particularly interesting as well to see that he acknowledges his mistakes and attributes better ideas to those who created them.
Drucker is the real deal. This is an important book for anyone who wants to be—or is forced to be—a manager.