The Basic Book of Photography
A book review.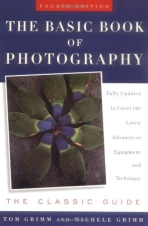 by Tom Grimm and Michele Grimm
published: 1997.09.01
ISBN: 0452278252
genre: Photography
reviewed:2002.03.11
👍🏼 recommended
This is a very large work for beginner photographers that has enough depth that experienced photographers will find it useful. It ambitiously covers a broad range of topics, from the mechanics of photography to concepts in composition and techniques in the field and the studio. The writing style makes it easy to tackle the 500+ pages, and the tone is informally technical, being neither too stuffy nor too slap-dash. The many examples and diagrams are quite helpful, and a number of supplementary topics - such as the mechanics of various camera, the nature of light, etc - all contribute to the overall understanding gleaned from this book.
That said, this is not an incomplete book; there is a lot of stuff covered here, and it's easy to find yourself wading through a lot of peripheral content at times. Also, some of the comments on various film types and similar goods haven't aged well, despite this being the 4th revision; perhaps it's impossible for a book to stay current in a field such as photography, which is as marketing-driven as any (and therefore liable to change for change's sake).
Overall, I found quite a bit of useful techniques and concepts, and quite a bit of interesting background that I just wouldn't have found in a less complete work. If you're interested in really diving into photography, this is quite a good source.