Tao Te Ching
A book review.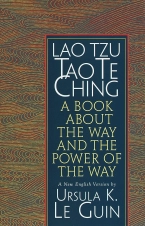 'A Book About the Way the Power of the Way'
by Ursula K. Le Guin (Lao Tzu)
published: 1997
ISBN: 1570623953
genre: Philosophy
reviewed:2004.08.15
👍🏼👍🏼 a favorite!
This is a transliteration of the great work "Tao Te Ching" by Lao Tzu. The transliteration is done in a semi-poetic fashion with a reverent and non-Confucius slant by fiction author Ursula K. Le Guin. I picked it up after having read some other Taoist interpretations of other works, and quite enjoyed it.
This is more than a strict book on philosophy. It is actually couched in terms of advice for a governor, for it was allegedly written by a courtier upon his self-exile from courtly life.
I strongly suggest this book to anyone who is sick of having people quoting miserable texts like Sun Tzu's "Art of War". It offers a peaceful and contemplative counterpart to today's driven and insane lifestyle and goals.