Power and Influence
A book review.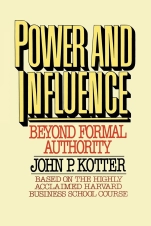 'Beyond Formal Authority'
by John P. Kotter
published: 1985
ASIN: 1439146799
ISBN: 9781439146798
genre: Business (Management)
reviewed:2010.03.24
👍🏼 recommended
This is an enormously helpful book for anyone just starting their career, or finding themselves in need of better ability to influence decisions. Given that this was written in the early 80's, the author's prescience in matter such as: complexity; the damage done by self-serving careerist management; and the need to manage people without any authority. This book advises on managing staff, "managing up", and dealing with peers. It also talks about practical matters such as finding mentors, understanding a firm and your likely career trajectory within that firm before you join it, and finally, in finding a course between the naïve and the cynical.
I've loaned this book to younger managers over the years, and recommend it.