MySQL and mSQL
A book review.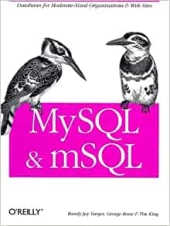 by Randy Jay Yarger
published: 1999.09.01
ISBN: 1565924347
genre: Computer Technology
reviewed:2000.06.23
I was interested in a headlong introduction to MySQL. I was interested in just learning how it works, how to do stuff with the database, and an explanation of its integration with applications. I found that MySQL + mSQL provided none of these things, which mystified me. The O'Reilly books, in the days of the Camel book for Perl and the Bees book for Oracle performance tuning, were worth their weight in gold. They might be a little awkwardly written, but you could use them. I found this book especially deficient in getting the software installed and running. As for an explanation of any of the internals? Nope. It's got a large API/reference section, but that wasn't what I was interested in.
Figuring it would have to contain a good description of application development, I put it aside until I could get the instances I was running performing as I needed them. By then, I'd learned what I needed without the book, and never went back to it. My copy remains pristine.
I was working with a fellow involved in the PHP/MySQL publishing business, and he suggested some other titles for me. I looked into one or two other titles, then decided to stick with the man pages and online resources.