Creative People Must Be Stopped
A book review.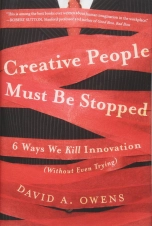 6 Ways We Kill Innovation (Without Even Trying)
by David A. Owens
published: 2012
ISBN: 9781118002902
genre: Business (Management)
reviewed:2019.12.22
👍🏼 recommended
As with "The Phoenix Project", which I reviewed earlier this year, this is an important business book. If I had to recommend just five books to anyone going into any form of work in business, this one would be on the list. Here's why:
1. You learn how to evaluate a given business environment against a well-laid-out set of constraints that the author has identified.
2. You can estimate the degree of impact of these constraints on the environment, to assist you with prioritizing which you'll address. This two-step process is absolutely critical when it comes to understanding why it is that an environment can consistently fail to innovate towards its challenges. It spoke to me directly as someone who's spent a great deal of time attempting to bring change to organizations, and as an auditor, and as an innovator.
3. You can then follow some of the steps outlined in the book to address them. In many cases you would use the steps provided as a starting point for your own creativity in dealing with the constraints.
Additionally, the author provides a concise description of how to run an innovation meeting. That is, not a "brainstorming" meeting, but a fully-fleshed-out process that results in consensus and action items.
In short, this is one of the most directly applicable books I've ever read.