Against A Dark Background
A book review.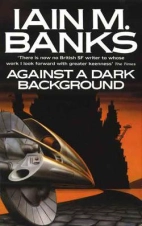 by Iain M. Banks
published: 1994.09.01
ISBN: 1857231791
genre: Sci-Fi
reviewed:2000.03.10
👍🏼👍🏼 a favorite!
This is excellent, if cheerless Sci-Fi from the author of Inversions. Banks has written an unrelentingly violent and savage tale of a band of played-out fortune seekers forced into action when a Church takes out a contract on one of their members. Sacrificing everything, the small band is put through the wringer of various planetary organizations, betrayed by allies, hindered by lunatic killers and plagued by their own inner struggles.
The setting is a solar system that has been subjected to some 30,000 years of human habitation. The system is showing its age, and the social, economic, and spiritual decay of the time are the mental space traversed just as the group visits the system's many nooks and crannies.
The last 50 pages are the real kicker, as the sacrifices and decisions are tallied against the victories and outcomes.