10 Temples on 2 Wheels
A book review.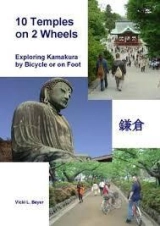 'Exploring Kamakura by Bicycle or on Foot'
by Vicki. L. Beyer
published: 2008
ASIN: 0646489836
ISBN: 9780646489834
genre: Travel Guidebooks
reviewed:2009.08.04
👍🏼 recommended
This guide book is, quite simply, a must if you're visiting Kamakura, the old capital of Japan and Tokyo's culture-steeped exurb. While the formatting is a bit rough, and there are only a few small photos, it's the tours that count and this book has enough material to make at least two trips to the town and its literally wonder-full sites.
I had been to Kamakura several times before I spotted this book in a foreigner's supermarket in Tokyo. This book revolutionized my next trip to the town. Armed with this book, I was able to show my guests several things that I'd not only never seen but had no idea were hidden away in Kamakura: bamboo forests, mountain-side shrines with cave systems, a wooded cemetery, and on and on.
The simple idea of guided bicycle tours opens up a whole new dimension for this town.