civilization III add-ons
2004.11.17 (updated : 2008.07.06)
It can be dangerous, publishing game rules. People might have a bad time with it. But I'm publishing this in late 2004, quite some years after the game was released. I've been playing with this ruleset and these changes for more than two years, and I'm satisfied that they work.
I've created my own modifications to Civilization III. The main differences are:
more strategic resources, and better icons for some existing icons
more luxuries
far more dependencies on resources for units
more 'culture' for city improvements
cheaper libraries
boats move further
These are explained, to some extent, below. Note that both the 'strategic resources' and 'luxuries' additions require the resources.pcx and resources_shadows.pcx files below.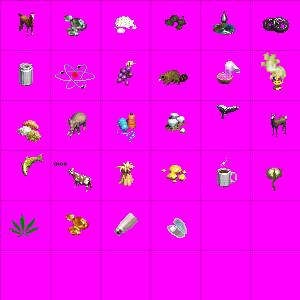 strategic resources
Above is a .GIF copy of my strategic resources image file. You'll notice that I replaced some of the icons, such as the awful green lump of 'uranium' and the simply weird 'furs' icon. I also added the word 'moo' to the cow icon, because it was months of game play before I realized what the thing was supposed to be (I was looking at it backwards the whole time, and thought it was a sketchy chicken!).
I've added some more resources, with the following reasoning:
copper
appears wherever you find iron (from which I stole the icon)
I'm shocked that this one was left out. Copper was, until the Iron Age, the weapon of choice for making weapons, either on its own or as the alloy "bronze" (copper plus tin). Without copper, how do you have spear-men, archers, or any of the other ancient units.
And without copper, how do you build anything that relies on electrical or electronic components? In my version, if you lose copper, you can't build Bombers, Modern Armour, Transports, Mechanized Infantry, Submarines, etc.
cotton
No cotton, no United States of America. That's how important cotton was, two hundred years ago.
Without cotton, how do you build the sails of frigates and galleons? What about the uniforms of the riflemen (remembering that the point of riflemen in Civ 3 is that they are the earliest national soldiers, and thusly uniformed).
hemp
One of the corner stones of industry for hundreds of years, this strong natural fiber and animal food source was a mandatory crop in colonial America.
pearls
appears in the shallowest water
I decided it would be fun to have a bonus that appears in the water.
pharmaceuticals
I realize that this is a tough one to implement via a strategic resource, but pharmaceuticals come from tropical species, more often than not, and are becoming an ever-more-important resource in the world. So I added these to jungle terrain, and made it impossible to build hospitals without this resource.
To make the icon, I grabbed an image of an orchid and wrangled it into a semblance of fit with the game.
ruins
appears in hills
Cathedrals play a big role in Civilization 3. While they're a wholly Christian invention, it's an interesting fact that they were often built on the site of an ancient holy spot. So I added the concept of the 'ancient ruin' to the game, and made them a requirement for building Cathedrals.
luxuries
coffee
appears in mountains
Do I really need to explain this?
salt
Occurs in deserts and plains.
Salt, in ancient times, was probably the single most important trade good. Roman soldiers were paid in salt (hence the expression 'worth his salt'). Salt was a lavish (even symbolic) gift in Medieval times. And even today, salt is mined around the world and in eastern Africa is still even transported on animal trains! I don't know why it was left out of the game, but there you are.
improvements
culture
IMHO, there is not enough culture benefit assigned to the various city improvements. In some cities the marketplace is the center of life in the city, not the temples. In others, it's the presence of ancient city walls that citizenry would point to as the city's historically-significant structure. In some of the latter - and Quebec city is an excellent example - the language and religion of the people were determined by the presence of walls to defend from invaders.
My changes are these:
Temple: +2 culture
Marketplace: +1 culture
Library: +3 culture
Walls: +1 culture
the files